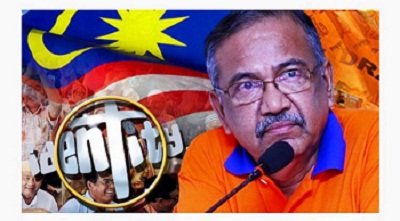 The problem among the Indian poor, attempting to live normal productive lives without MyKads, without BCs and with Red ICs continues in spite of the statistics spewed out from time to time by Government agencies like SITF( Special Implementation Task Force) or by outsourced BN partner NGOs like DHRRA ( Development of Human Resources in Rural Areas).

All of this points to the failure of current policy of the BN government in providing the basic right of citizenship to this most vulnerable segment of our society.

This failure is attributed in official circles to the lackadaisical attitudes of the currently stateless people. The BN Government's programs to address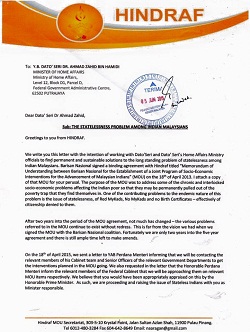 this problem are symptomatic of this understanding of the problem. Much of the effort have been of the outreach type. Meaning, if you get out to them you will be able to fix the problem.

The results however tell a different story and the problem continues unabated. This approach indicates a gross misunderstanding of the situation.

This misunderstanding cannot all be attributed to incompetence of the administrators concerned, for there are significant advantages to the ruling elite in treating the problem this way.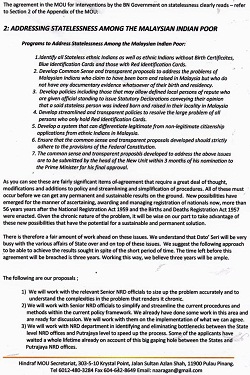 In our ethnocentrically structured political system where votes are gained or lost on the basis of ethnicity (unfortunate but true), it certainly benefits the BN Government to keep this problem simmering.

How else does one justify watertight rules for citizenship for these people, while there is such a large pool of foreigners operating in our country without proper registration? The chronic nature of this problem of statelessness among the Indian poor is reflected through some recent statistics put out by the DHRRA and SITF.

This data can best be treated as sample information only and not to be understood as representing the entire problem. Yet it does yield insight:

AGENCY PERIOD OF THE DATA STATELESS PEOPLE SHOWING UP FOR HELP IN THE OUTREACH EFFORT NUMBER OF CASES FINALLY RESOLVED NUMBER OF CASES STILL UNRESOLVED PERCENTAGE OF UNRESOLVED CASES

DHRRA 2003 -2013 7085 5425 1560 22%
SITF 2011-2012 14385 6590 7795 55%

First these numbers suggest a much smaller problem than what exists out there. Hindraf believes the problem to be very much larger – probably of one order of magnitude greater than that suggested by the SITF data.

The data does not include all those who have not been touched by any of these programs (and we come across such people every so often), those who have tried and who have failed in the past and have given up and all those who are still waiting (and we know many who have waited a lifetime already) . Then there are new cases springing up all the time.

The data surely does not include all these categories of stateless people.
Second, the data clearly shows that a significant portion of the problem remains even after the effort.

We can therefore conclude that the outreach approach is limited in its effectiveness and will not cure the problem permanently and comprehensively. The reasons for all those cases unresolved largely represent those that will not be cleared unless there are some decisions made at the policy level.

It was in recognition of these two considerations of reality that Hindraf drew up the following terms to address statelessness with BN government in its Memorandum Of Understanding with them prior to the last GE. Programs to Address Statelessness Among the Malaysian Indian Poor:

1.Identify all Stateless ethnic Indians as well as ethnic Indians without Birth Certificates, Blue Identification Cards and those with Red Identification Cards.
2. Develop Common Sense and transparent proposals to address the problems of Malaysian Indians who claim to have been born and raised in Malaysia but who do not have any documentary evidence whatsoever of their birth and residency.
3. Develop policies including those that may allow defined local persons of repute who are given official standing to issue Statutory Declarations conveying their opinion that a said stateless person was indeed born and raised in their locality in Malaysia

4. Develop streamlined and transparent policies to resolve the large problem of all persons who only hold Red Identification Cards.

5. Develop a system that can differentiate legitimate from non-legitimate citizenship applications from ethnic Indians in Malaysia.

6. Ensure that the common sense and transparent proposals developed should strictly adhere to the provisions of the Federal Constitution.

Hindraf firmly believes that nothing short of such intervention will permanently and sustainably resolve the problem. In a letter sent today to the Home Affairs Minister, Hindraf called upon the Minister to begin addressing it at the level of policy with Hindraf.

The MOU is a binding document and it behooves the BN Government to implement the agreements of addressing the problem at policy level, so that it will not be in breach of contract when the agreement expires in 2018.

Hindraf will call upon the Top and Senior Management of The Jabatan Pendaftaran Negara for discussion. We have developed proposals that address the reality in truer terms and proposes recommendations to address the issues effectively.

Hindraf is willing to work with the Home Affairs Ministry to resolve the issue of statelessness permanently. With the proven failure of past attempts, it would be wise of the Home Affairs Ministry to work with us who have a good understanding of ground realities, if indee the Ministry who deserve it.