School Prefect Shuvita, ruled stateless, was due to sit for the PT3 examination.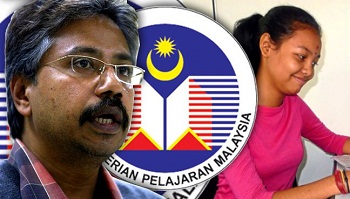 GEORGE TOWN: Hindraf has urged Deputy Prime Minister and Education Minister Muhyiddin Yassin to immediately intervene in the case of a Form 3 student in Penang, Shuvita, who has been unceremoniously kicked out from school by Penang Education Director
Osman Hussain on the grounds that only her father was a citizen, therefore she was deemed stateless, and thereby not eligible to attend school.

Osman, noted Hindraf, has also pledged to take action against those who allowed the student to enroll and remain in school all these years. "Osman was surprised that Shuvita passed her UPSR when she should not be in school as a non- citizen."

Hindraf Chairman P. Waytha Moorthy stressed that in the event the girl was not re-admitted to school, the human rights NGO had no choice but to lodge a formal complaint with the United Nations for Malaysia's breach of the Convention on the Rights of a child which it had ratified.

"She has performed well in her UPSR examinations and her future was now in limbo because of the insensitive behaviour of education officers," fumed Waytha who is also a lawyer in private practice and until last year was a Senator and Deputy Minister in the Prime Minister's Department.

Instead of assisting her to continue with her education and taking the necessary steps to provide her with assistance, said Waytha, a top government officer has instead denied a young child of her right to education. "He has thrown the weight of a mindless bureaucracy upon this poor child and her defenceless parents who are ordinary people."

Shuvita was stopped on 25 April 2015 from attending school by the Penang Education Department after it discovered that she did not have an identity card.

"How could the Education Department classify Shuvita as a foreigner in the first place when she was born to a Malaysian father and was fully protected under the Federal Constitution?" asked Waytha.

Article 14 (1) (b) of the Federal Constitution read together with Part II of the second schedule, he added, clearly qualifies the child for citizenship.

He argued that Shuvita was also covered by the ratification of the Convention on the Rights of the Children (CRC) in 1995, the subsequent enactment of the Child Act in 2001 and the amendments to the Education Act 1966 in 2002 whereby primary education was made compulsory for all children in Malaysia with any one parent being a Malaysian citizen.