Zam gets brickbats, bouquets from Hindraf on Zakir
Joe Fernandez
| May 13, 2016
If the former Information Minister had made the call earlier, perhaps the authorities concerned would have deported controversial preacher Zakir Naik immediately and warned him never to come back.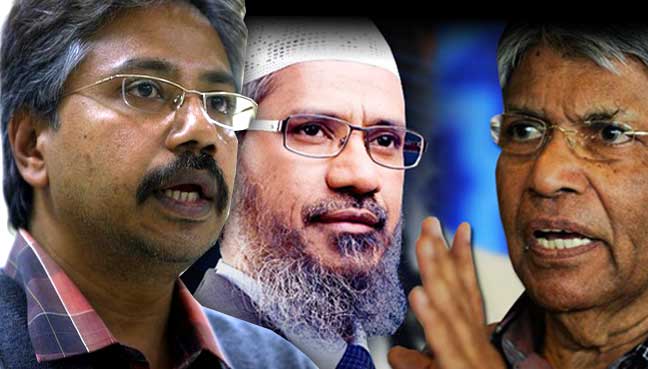 KUALA LUMPUR: Hindraf Makkal Sakthi has expressed surprise that former Information Minister Zainuddin Maidin has called for controversial preacher from India, Zakir Naik, and others like him, to be banned from the country. "This was what we were pleading for when Zakir Naik was here, pitting religion against religion, but to no avail," lamented Hindraf Chief P. Waythamoorthy in a telephone interview.
"If Zainuddin had made the call earlier, perhaps the authorities concerned would have deported Zakir Naik immediately and warned him never to come back."
"Hindraf, by some strange logic, was accused of meddling in Muslim affairs and touching on Islam. There's no way that we can allow foreigners to enter the country and pit the people against each other."
Zainuddin's call late in the day, stressed Waytha, was akin to closing the stable doors after the horses had bolted. "Nevertheless, we appreciate his call, even though it seems like a case of too little, too late."
On a brighter note, noted the Hindraf Chief, Zainuddin's supporters have argued that "it's better late than never".
Moving on, Waytha urged the authorities concerned to come out with a clear, open, and transparent policy guideline on foreigner preachers descending on the country.
"For example, Zainuddin cited the example of Singapore keeping out even Christian preachers who don't confine their activities to members of the faith."
"Malaysia can do the same thing. We can't say that only foreign Muslim preachers should be banned."
He noted that Zainuddin had mentioned in his latest blog posting about the various steps taken by the police in Malaysia to rein in foreign preachers and keep them out despite political interference.
"In the case of Zakir Naik recently, there were mixed signals on his case, resulting in him publicly thumbing his noses at us. He was literally laughing at us. He said that he was not afraid of Hindraf, mocked and thanked us for the free publicity."
"We are Malaysians and he, a foreigner, came here and humiliated us with various remarks because he felt that certain people in the country were backing him."
In expressing the hope that the Zakir Naik controversy would not be repeated in the country, Waytha said that he was purely looking at the foreign preacher and others like him on national security grounds.
"When we have people boldly entering the country, apparently not bothering to apply for work permits, and pitting the people against each other, religion against religion, then we have a serious national security problem on our hands."
He fears for the worst based on his observations that radicalized individuals, and those in whom certain prejudices have been instilled, would not come out of the unnatural phenomenon that easily.
"That's why Singapore was double quick recently to detain a group of Bangladeshis who were going around radicalizing their fellow countrymen on the island. They were reportedly not deported, lest the problem be transferred elsewhere, but detained."
He called for comparative studies on religion in the country to be confined to institutions of higher learning.
"This kind of debate should not be hijacked by preachers, whether foreign or local, and put out in the public domain."