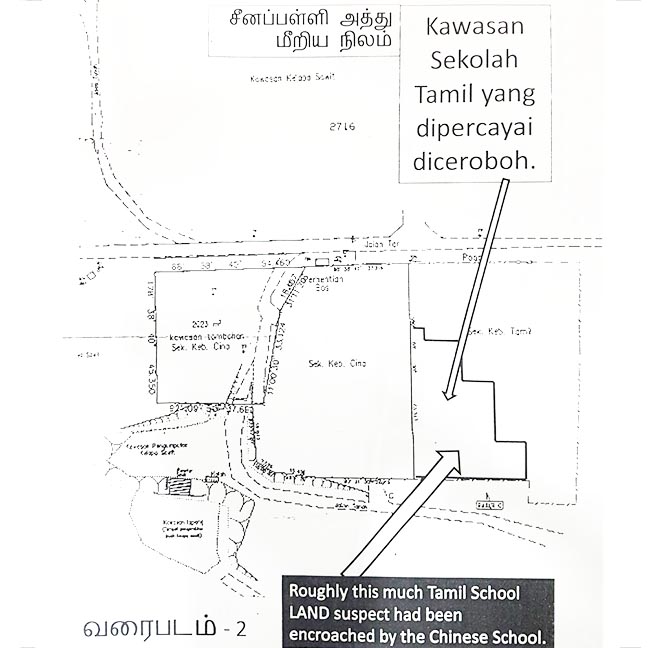 KUALA LUMPUR: Hindraf Makkal Sakthi wants the Education Minister to immediately intervene and place a stop work order on SJK(C) Ladang St. Leonard, a Chinese school in Port Dickson, which has encroached onto land which the neighbouring Tamil school owns.
"Immediate intervention is necessary to halt building works," said Hindraf Chairman P Waythamoorthy.
"There's suspicion that something is amiss in this whole saga.
Strangely, he alleged, the headmistress of the Tamil school was not taking any interest in the encroachment.
"All complaints to her have fallen on deaf ears."
The Negeri Sembilan State MIC Exco, approached by the PIBG (Parent- Teacher Association), brushed aside the unlawful encroachment, fumed Waytha. "They had no valid reasons to ignore the complaint."
He added that his NGO would be writing to the Negeri Sembilan MCA, Gerakan and DAP to assist in resolving the issue.
"The Tamil and Chinese schools have co-existed in Port Dickson for so long."
Briefly, said Waytha, Hindraf had been approached by the PIBG of SJK(T) Ladang St. Leonard on the unlawful encroachment by the SJK(C) Ladang St. Leonard.
"It has embarked on building what is believed to be a 2 storey building," said Waytha, a human rights advocate and senior lawyer in private practice.
"The SJK(T) Ladang St. Leonard has been in existence since 1937."
Hindraf's move follows an emergency meeting held on Wednesday with the PIBG of the Tamil school. Apparently, estate owner Sime Darby granted an acre of land each to the Tamil and Chinese schools about 10 years ago. The documents on those transactions, it transpired, are in the custody of the current headmistress of the Tamil school as well.
According to the land documents given to the NGO, continued Waytha, there's a clear boundary between the Tamil and Chinese schools.
"There's a 'straight line divide' of one acre for each school."
Apparently, the Chinese school began encroaching about two months ago onto part of the one acre occupied by the Tamil school.
"This was done without any notice and without any knowledge of the PIBG and the school," said the Hindraf Chief.