Family makes last minute plea to stop hanging-FMT

KUALA LUMPUR: P Chandran is scheduled to be executed in the Kajang prison tomorrow morning and his family makes a last minute bid to save his life today.
In a press conference organised by human rights movement Hindraf, Chandran's younger brother P Thamotharan urged the government to postpone the death sentence on grounds of human rights.
Chandran's family said they hope for a clemency from the Yang di-Pertuan Agong and he be given life imprisonment instead.
Hindraf has also arranged to submit a memorandum to the King from the family, pleading for the execution to be postponed.
Hindraf media event & Memorandum to Agong
Hindraf media event, 6.2.2014 @11am - Hindraf calls upon the AG to stop execution of death sentence upon Mr. Chandran a/l Paskaran to be carried out on 7th feb in Kajang prison. Family of Mr.Chandran would be present to appeal to government.
AG to halt an impending execution on a death sentence
HINDRAF calls upon the Attorney General's office to immediately take the necessary pro- active steps in halting the execution one Mr Chandran a/l Paskaran that is to take place on 7th February 2014 in Kajang prison.
The call for abolishment of death sentence had been in place since October 2012, when Datuk Seri Mohamed Nazri had voiced out his intention to move a moratorium bill with the support both from the government and opposition to abolish death sentence in Malaysia.
Kampung India, Batu 2, Jalan Mengkibol, Kluang, Johor
HINDRAF Johor menyertai perjuangan terakhir penduduk Kg Mengibol untuk menyelamatkan Kampung India, Batu 2, Jalan Mengkibol, Kluang, Johor yang menghadapi bahaya perobohan akibat Projek Landasan Keretapi Berkembar Elektrik Gemas-Johor Bahru. Selepas ini penduduk merancang untuk menganjurkan protes yang sama di hadapan Pejabat Menteri Besar Johor, Nusajaya dan Pejabat Perdana Menteri di Putrajaya
.
Health Minister should stop being wishy washy on CSMU matter
HINDRAF is disappointed with the lackluster attitude and indecisiveness of the Health Minister Datuk Seri S. Subramaniam in handling the re-accreditation of Crimea State Medical University (CSMU).
As it appears from recent news reports, it is quite clear that both MMC and the Health Ministry are indulging in passing the buck game between them with contradictory statements without having the ability to be transparent in addressing the issue.
Hindraf condemns JAIS' raid on the Bible Society of Malaysia and calls for constructive approaches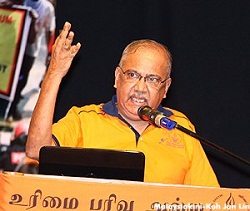 Hindraf strongly
condemns JAIS's raid on th
e office of the Bible society of Malaysia and the arrest of its President and Office Manager on the 2nd of January 2014. This is just one more instance of the strong arm approach of the Islamic enforcement authorities in dealing with contentious inter-religious issues. They resort to such insensitive actions without understanding the significant implications to the entire fabric of Malaysian society.
Kg.Chitty : Melaka CM needs to issue immediate stop order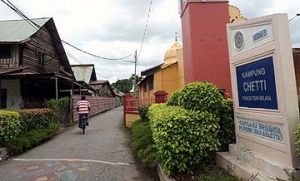 Hindraf urges the Melaka Chief Minister to immediately issue a stop order on the 22 storey development building that is currently threatening the heritage village of Kg Chitty in Melaka as was done by Kedah MB on the Bujang Valley site. While we appreciate the concern of the Melaka Chief Minister who ordered a probe into the approval, we feel this is not sufficient and urge him to take a more pro active step.
Johor Hindraf team visited Kg Chitti, Melaka